Bear: This is a bear from south park, the hunters hunt him.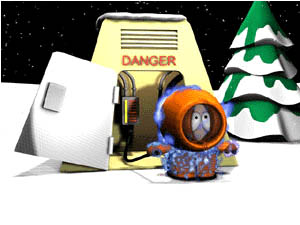 Kenny Shock: This is just "sweet" it's Kenny getting electrocuted, but just look at the graphics. Can you get any better??
Damien: This is Damien off South Park, he's on the one when Satan & Jesus have a fight!!

Cartman Bust: This is Cartman, him been fat has caused to his jacket ripping open!!

Cartman Farting: This is Cartman farting fire!?!

Cartman Moon: This is Cartman pulling a mooney!!

Chef Singing: This is chef bellowing.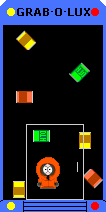 Uh!: I don't know what this is!! If you know feel free to inform US

Kenny Pole: Kenny here has been shot, then he flew up into the air and he got a flag pole up his a@#e!

Hitler: This is a South Parked Hitler.

Hunting: This is Kenny &some geek hunting they've got a bear and a deer!!

Ike: This is Ike, Kyle's little brother. Chuff knows what he's doing!

Kenny & co.: This is Kenny and the Grim Reaper having a whale of a time!!

Football Kenny: This is Kenny enjoying a nice game of football.

Kenny's Head: This, if you haven't noticed, is Kenny's Head!! Don't ask why it's come off!!